Colored 2 tone B

© replicates irregular chipped or partially exposed colored flush rivets on

©
or a painted airframe.

There are 4 components to the "B" flush rivet system...12 rivet
applicators, Dark rivets, Lite rivets, and 15

©
strips.

Within a few minutes of practice B irregular shaped colored flush rivets are quickly replicated. A pencil line is drawn very lightly inside and parallel to panel edge. Align

©
strip parallel to edge and centered over pencil line.
Dab,

©
Dark Rivet and Lite Rivet onto a pallet using applicator. Using "side" of applicator, gently pat Dark Rivet, into rivet hole...do same with Lite Rivet applicator. When done correctly it will result in semi-dry application of color.

Reset 9/01/12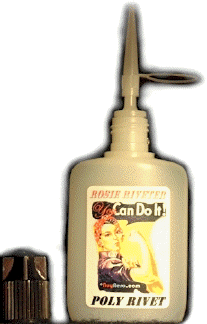 "You...Can Do It With

©
"

To Order Click Here